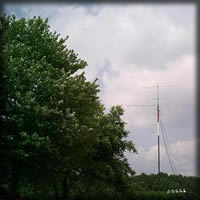 Links and more...
Favorite Sites
Here are a few of our favorite sites around the web . . .

HRO
Ham Radio Outlet!
Google Earth
Explore, Search and Discover!
QRZ.com
The Ham Radio Super Site.

ARRL
The National Association for Amateur Radio.
W2LJ's Blog - QRP, Morse Code & Amateur Radio
Jim's favorite blog.
Long Delayed Echoes, a program for ham radio enthusiasts...
An interesting collection of recordings describing events in amateur radio history.
Ham & Amateur Radio Blogs on the Web
Amateur Radio Blogs from the United States of America.
Cobb ARES
The Cobb County Amateur Radio Emergency Services web site.
Gwinnett ARES
The Gwinnett County Amateur Radio Emergency Services web site.
W4GBU's Atlanta Area Club Sites
A comprehensive list of local ham clubs.

Electronics + Radio Today
Covers topics such as basic electronics and radio concepts, basic components, simple electronics circuits, radio, ham radio, construction techniques and much more.
Roswell Weather Net
This is run by ex(past) president of our club Danny WA4BRO.
ACME Mapper
A good on-line topo service -- adds topo maps to Google's Map tools
KC4GZX Amateur Radio Homebrew Projects
AC6V's Amateur Radio And DX Reference Guide
The DXZone.com
Amateur Radio Resource Guide
Tennessee Amateur Finds Innovative Way to Promote Amateur Radio
This article is about our past club president Cliff Segar, KD4GT who now lives in Tennessee.

RadioQTH License Creator
Provides a form that can be used to create a certificate for your license, or a reference copy of your license. Creates PDF certificates which you can print and frame.
Amateur Radio Receivers
A cool site on receivers found by W4QO. Referenced on the following site.
ElectronicsTeacher.com
A portal dedicated to Students, Amateur and Professionals in the electronics field. Found by W4QO.
Tonne Software
A technically oriented site for engineers and technicians. Recommended by Mack W4AX and Chuck AE4CW.
---
Where can I find ...
ARRL Southeastern Division. http://www.southeastern.arrl.org
ARRL Georgia Section.
Circuit Simulator (compliments of Hermann AJ4ZS / DL8MCP)
http://www.falstad.com/circuit/
Coaxial Cable - Attenuation & Power Handling Calculator
http://www.timesmicrowave.com/cgi-bin/calculate.pl
Digital mode frequencies. List of digital mode frequencies
Ham radio in the 21st century
Ham radio today differs greatly from that of past years, but it still offers a fascinating way to explore electronics. Here's a look at how it has changed and what it has to offer both old hands and newcomers alike. more ...
Hams living in a ZIP code. Hams by Zip. (Click on "N4MC's Ham Locator" in the page's left column.)
HF Propagation Information
AE4RV provides a flash video that introduces HF propagation and describes the SFI, A, and K indices:
http://www.ae4rv.com/tn/propflash.htm
Homebrew Parts. A collection by Ted Bruce. Click here to open the pdf file.
How to get ham magazines. Try these: QST CQ World Radio QRP Quarterly
How to put CW ring tones on my cell phone. Click here and follow the steps.
Mapping tools:
Mobile Antennas
My grid square. http://www.levinecentral.com/ham/grid_square.php
Radio Equipment. Ham Radio Outlet (a NFARL supporter) or HamCity.com
Ten Meter beacons. http://userpages.troycable.net/~wj5o/bcn.htm
---
Ham Radio News
---
Antenna SIG Links
Here are links to information from NFARL's 2010 Antenna Special Interest Group. Participants in the course used the information as a study guide; you might find its content a useful adjunct to your antenna self studies.
Executive Team
Last updated March 9, 2013