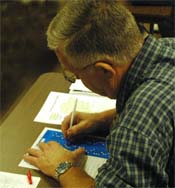 Test Sessions
There will not be a test session in December, 2013.
Verne W8BLA and his team will to hold test sessions on the second Saturday of each month in 2014. 2014 test dates include:
January 11th
February 8th
March 8th
April 12th
May 10th
June 14th
July 12th
August 9th
September 13th
October 11th
November 8th
December 13th
Test dates are also listed on our Activities Calendar.
Test sessions take place regardless of other activities taking place on a test day.
Drop Verne W8BLA an email at W8BLA@ARRL.net to take a test (although walk-ins are welcome) or participate as a volunteer examiner.
Exams will be held at:
Alpharetta Recreation & Parks Department
Alpharetta Adult Activity Center
13450 Cogburn Road
Alpharetta, GA 30004

678-297-6140 (direct)
678-297-6141 (fax)

www.alpharetta.ga.us
Testing begins at 10AM. Walk-ins are welcome, but must arrive prior to 11AM.
Please bring with you:
Exam Fee ($15.00).
Copy of your current amateur license if you hold one.
A current valid photo ID such as a drivers license.
Social security number or you can obtain an FRN number by logging in to the FCC web site at http://wireless.fcc.gov/uls/index.htm?job=home.
Special arrangements may be made for special testing cases.
More information about the examination process is available on our License Exam Information page.
| | |
| --- | --- |
| Contact: | Verne Fowler, ARRL VEC Liasion |
| | W8BLA |
| | w8bla@arrl.net |
| | 770-364-9500 |
We look forward to seeing you at the test sessions!
W8BLA
Last updated November 18, 2013