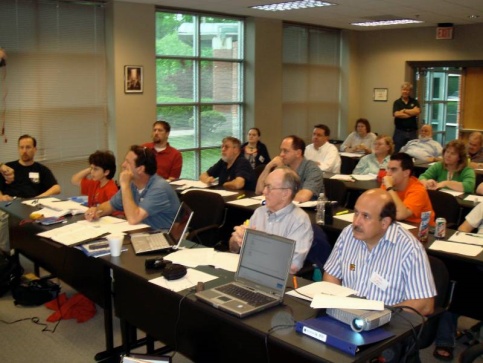 HamCram
Ham Cram is a guided self-study course followed by a class or classes that teach everything needed to earn or upgrade an FCC radio amateur license. We offer Hamcram sessions designed to enable you to earn your first license (technician) or upgrade your technician license to a general license.
Our Technician HamCram training regimen includes self-study course preparation materials, fine-tuning your learning with a day in our classroom, followed by testing at our in-house test session the same day.
Our General HamCram training regimen is similar to the Technician training approach except that there will be multiple meetings to review materials and fine tune your knowledge. VE testing takes place at the last class meeting.
We usually run two HamCram courses each year -- one in the spring and one in the fall.
Fall 2017 Technician HamCram Class
Date is TBA
Our Fall 2017 HamCram is a Technician class. It is currently being rescheduled. The new date will be posted here and on the web site home page when it is available.
The class will start at 8:00am; testing will begin at around 4:00pm. You must to be present for the entire session to take the test.
More details:
HamCram Fine Print
We ask that you allocate time before the class to prepare for the class. If you are diligent, we are confident that you will be able to pass the test on class day.
Shortly after you register you should receive an email containing:
Internet links to the Technician exam questions and answers.
Instructions on how to approach studying the questions / answers.
While it is possible to successfully complete the course with the class materials provided with your registration fee, we encourage students to purchase one of the following self-study guides to serve as a supplemental reference as you study:
"Technician Class 2014-2018" by Gordon West
"The ARRL Ham Radio License Manual, 3nd Edition" by Ward Silver for use July 1, 2014 to June 30, 2018
If you have questions or do not receive the materials, please contact Mark Schumann, KK4FOF at kk4fof@nfarl.org.

If you are under the age of 16, we ask that a parent bring you to the HamCram session and sign a permission slip indicating their approval for you to take the course. We would like for parents to stay for the course, however if that is not possible we ask that parents leave a contact phone number at which they can quickly be reached in case of an emergency.
Persons under the age of 18 who participate in HamCram will receive a free membership in the North Fulton Amateur Radio League!