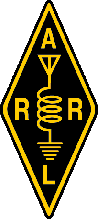 ©North Fulton
Amateur
Radio League
1990 - 2017

Contact our Webmaster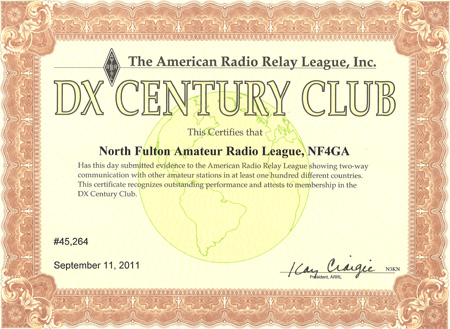 Club DXCC
A 2011 Club Team Event
Click here to jump to the list of confirmed countries.
Objective
In a club / team effort for all operators, club members successfully worked to obtain (through LoTW) a DXCC certificate for the club call NF4GA during calendar year 2011.
Process
Club members should identity as best they can, DX stations that confirm via LoTW and work them using NF4GA on any band / any mode.

Remember that you may only use YOUR PRIVILEGES as to band segments.
Only stations you feel will use LoTW should be worked.

It is not an "error" to work someone who does not use LoTW, but we don't need to work 25 Italian stations – one good one will do. Members may continue to work a country until it is confirmed via LoTW. For example, ten people may actually work DL before it gets confirmed.

Send the standard log info via email to

Dave, KD4ICT

at award@nfarl.org. He will enter it into the NF4GA logbook. Send it in ADIF format if possible.
Our coordinator, Dave, KD4ICT, will periodically upload to LoTW and report in eNEWS and on the website a status of those countries NF4GA has confirmed.
Any mode counts so some may find PSK31 the easiest way to get those new countries.
After the award is earned, a small replica of the certificate will be presented to all club members who submitted log entries.
Questions may be referred to Dave, KD4ICT (award@nfarl.org).
Confirmed Countries
as of Friday, September 9th

Reviewed 2/26/2013 by K4SQC