Field Day
Updates from The Chairman
Field Day Update #5
June 13th, 2017
All, we are now 11 days out from Field Day. It is getting close, and the excitement is in the air!
Thank you to everyone who joined us at the Roswell City Council meeting last night, to receive the Field Day/Amateur Radio Week proclamation. Mayor Wood proclaimed next week, the week of June 18, Amateur Radio Week in Roswell, and we are grateful for the city's support.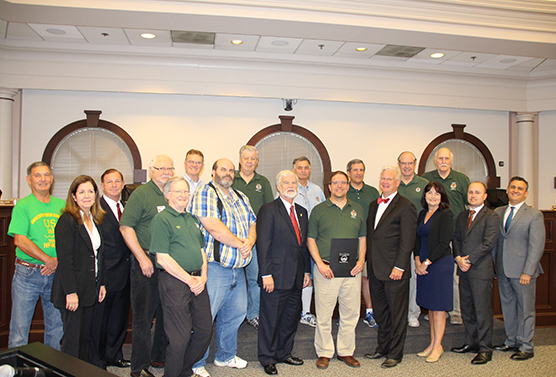 Here are a few updates for everyone:
Operators – We still need operators. We plan to operate 3A this year. That means we need operators in chairs, so we can effectively show the community, and our served agencies, the skills we bring to bear. We welcome anyone, of any skill level, to operate at Field Day. You should have seen, or be seeing, emails from the station captains seeking operators. Please pick an hour, or two, or 30 minutes, that you can operate, and sign up! Don't worry if you haven't operated HF before. We'll have plenty of people there to help you. It is fun. It is magical. You might even get to make your first DX contact! You can also find the station captains on the Field Day page of the club's web site.
Sun screen – Please plan to wear appropriate sun screen. Remember, it is late June, and the sun will be strong. We want everyone to be safe and happy!
Insect Repellant – Again, it will be late June in Georgia. Mosquitos and other biting insects will be out and about. Please use an appropriate insect repellant.

IMPORTANT NOTE – Please use an insect repellant that does not contain DEET! DEET is known to damage plastics and rubbber, and that means our transceivers.

I can highly recommend Bug Band brand (http://www.bugband.net) insect repellants. They are all-natural, work wonderfully, and contain no DEET. Full disclosure – the makers of Bug Band are friends of our family. If you don't use their product, please use some product, one without DEET.
Picnic – If you haven't already, please RSVP for the yearly club picnic, by Tuesday, June 20. Lynn, N4MSK, needs a head count to order the barbecue and to plan her hamburger/hot dog purchase. RSVP via email to fdfood@nfarl.org.
Attend next week's club meeting – Your Field Day team will be going over the ins and outs of Field Day 2017. Please come hear what we have planned, and bring your questions.
Until next time,
73 de,
Ian, KM4IK
2017 Field Day Chair
km4ik.ian@gmail.com
Field Day Update #4
June 2, 2017
We are coming down to the wire, and there are some items outstanding that we need to address.
Setup – We'll need help Friday morning/afternoon with setup. If anyone has an antenna launcher and air compressor, and can join us to help put up the loops and dipoles, your assistance will be greatly appreciated. Please email me directly at km4ik.ian@gmail.com if you can help.
Tear Down – Perhaps more important than setup, we need people to help us tear down Sunday afternoon. By the time we get to tear-down, we're all hot and tired, and many of us have already been at the park for most, if not all, of the last 28-30 hours. We need fresh bodies to help drop and put away antennas, tear down the stations, and clean up the park. The more people who show up to help, the faster we get done. We got great response on this last year. Let's keep up the trend. Again, please email me directly if you can commit to helping Sunday afternoon. If you don't or won't know in advance of Sunday, but find yourself available to help, please just show up.
City of Roswell Proclamation – Monday, June 12, at 7:00 PM, is the monthly Roswell City Council meeting. At that time, Mayor Jere Wood and the Roswell City Council will issue the annual proclamation in honor of Amateur Radio Week/Day. We need as many club members to attend, in your club polos, to show support and that we mean business when it comes to serving our community. The meeting is in the City Council chambers on the second floor of Roswell City Hall, 38 Hill Street, Roswell, 30076. Please make every effort to attend.
Operators – Folks, it isn't Field Day without operators. The station captains already began soliciting help for people to operate the stations. Please make some time Field Day weekend and come get on the air and log some QSOs with us.

Your station captains are:

All their contact info is on the Field Day section of the club web site. Please volunteer to operate at least a little. If everyone operates 30 minutes to an hour, on your favorite mode, we'll have coverage all weekend on all stations.

Picnic – Lynn, N4MSK, will soon be sending out the picnic info and RSVP request. Please RSVP, as soon as you can, with the number of people in your party coming to the picnic, and which side dish or dessert you'd like to bring. Lynn needs this information so she knows how much barbecue to order, and so she can coordinate the sides and desserts to make sure we don't have 30 baked beans dishes and 17 chocolate chip cookies, and nothing else to eat with our picnic. RSVP to fdfood@nfarl.org
Radio Merit Badge – Jon Wittlin, K4WIT, and his team are once again teaching the radio merit badge to any interested Boy Scouts. Please encourage the Scout(s) in your life to sign up soon, as space is limited. Click here to register for the workshop.
Logging Software – If you haven't already, please download and get familiar with N1MM Logger+ logging software. It is what we will use again this year at Field Day. It is free, and, for our purposes, is easy to learn if you work with it for a little bit ahead of Field Day. It can be downloaded from http://n1mm.hamdocs.com/tiki-index.php.
Since this is Field Day, and our thrust is on showing as many people as possible what we can do, and introducing as many people as possible to amateur radio, please invite all your friends, relatives, and neighbors to join us. As always, we want to get our youth involved, as well. Please, if you know any youth, bring them to Field Day.
73 de,
Ian, KM4IK
2017 Field Day Chair
km4ik.ian@gmail.com
Field Day Update #3
May 7, 2017
Field Day plans continue full-speed ahead! We're gearing up for another successful event. Come out and help us show the world what ham radio is all about and why we're still relevant in today's digital age. And, let's see if we can get some new people interested in our amazing hobby!
We've said it before, we'll say it again. The City of Roswell changed the name of the park we're using. The park we formerly knew as Waller Park Extension is now Groveland Community Park. Same facility, same location. Just a new name. So, when you see Groveland Community Park, think Waller Park Extension. Let anyone on the Field Day team know if you have any questions or concerns.
Once again, we will use K4JJ as our main site call sign. Our GOTA station call sign will be NF4GA. Our site information is posted on the ARRL Field Day Locator site at http://www.arrl.org/field-day-locator. If you hear of anyone looking for someplace to spend Field Day, please let them know about our event and send them to the Field Day locator with K4JJ as the call sign.
For logging this year, we will once again use N1MMLogger+ logging software. We will do a brief demo of this software at the June meeting, when we go over our Field Day plans and prepare the club for the weekend. As I said in other posts, please download the software and play with it some to familiarize yourselves with it. It is free software, and, for our purposes, is pretty easy to learn once it is set up. If you have any questions about setting it up or using it, please let me know. I'm happy to help or answer any questions I can. You can download it at https://n1mm.hamdocs.com/tiki-index.php.
Our station captains are starting to solicit operators to fill slots and keep the stations on the air. When our captains reach out and ask for people to fill operating slots, please respond. Please fill in the slots and operate. If you can operate for an hour, operate for an hour. If you can operate for three hours, operate for three hours. However much time you can operate, please operate. While we are not focusing on our final score this year, we still want to post the best score we can. When more people operate, we have more fun and have a more successful event.
Finally, we have our annual picnic Saturday evening of Field Day weekend. Lynn, N4MSK, will be sending out sign-up emails starting right after Memorial Day. Please be on the lookout for these emails, and respond to her as soon as possible. Your participation is part of what makes our annual picnic the huge success it has been for so many years.
Until next time!
73 de,
Ian, KM4IK
2017 Field Day Chair
km4ik.ian@gmail.com
Field Day Update #2
We are just shy of 3 months away from Field Day, and your Field Day team is hard at work. Our station captains are getting their stations together. As they are doing so, the call for operators will start going out soon. Please sign up to operate as much as you can. The best way to maximize our score is to maximize the number of people operating throughout the 24 hours of Field Day. While score is not our primary focus this year, we still want to do well in our class, 3A. We encourage anyone who wants to operate, regardless of your contesting skill, to sign up for a couple of hours of operating time. We'll have a phone station, a CW station, and a swing station (CW/phone, at the operator's discretion) again this year. In addition, we will have the usual GOTA station, a 6m station, and a satellite station. ARES will also be on-site with Alpharetta's mobile command center, go-kit examples, and ARES communications demos. This year, on the swing station, we would like to demo digital modes for a few hours Saturday afternoon. We anticipate wrapping this demo up no later than the start of the picnic around 6:00 PM. If you are a digital operator, and can give us an hour or two Saturday afternoon, please let me know.
The big question at last month's club meeting was which logger we're using this year. Your Field Day team decided to go with N1MM Logger+ for this year's event. The reasons are largely technical. It easily interfaces with most rigs available today, without requiring any special configuration. It also networks in such a manner that, if we have issues with the ad-hoc WiFi network we'll have at Field Day, we don't lose any contacts, or the ability to pick right back up when we return network capabilities. We understand that N1MM Logger+ is a bit different from the N3FJP software we have used in the past. To that end, I encourage everyone to download the software and play with it for a bit leading up to Field Day. It can be downloaded, free of charge, from https://n1mm.hamdocs.com/tiki-index.php. There is no trial period or 30-day/30 contact limit. This is totally free software. If you have any questions about basic functionality, let me know. I've used this logger for several years and am familiar with basic operations, which is about all we need be concerned with at Field Day.
If anyone is interested in helping with Field Day, but doesn't want to get involved with the technical aspects of the event, we need someone to help make sure we maximize our bonus points. This essentially means making sure we have the proper evidence, whether that be a photo, a log, a copy of a newspaper article, that we earned the bonus points we're claiming. We have to submit this proof to the League when we send in our packet. If you are interested, and would like more information, please call or email me, and we can discuss the role and responsibilities in further detail.
While we're talking about bonus points, a new bonus point category is social media. Jeff Otterson, N1KDO, is working on a Facebook campaign for the run-up to Field Day. I will also be working on other ways we can use social media to promote amateur radio and Field Day. Watch this spot for more details.
That's it for now. As always, if you have any questions about Field Day, please get in touch with me. I am always happy to talk to you about it.
Until next time,
73 de,
Ian, KM4IK
2017 Field Day Chair
Field Day Update #1
Field Day is right around the corner! OK, it's still about three months away, but plans are underway for another fabulous Field Day event. This year's event takes place June 24-25. We're holding Field Day at the same park we have used for the last ten years. However, be advised, The City of Roswell renamed the park from Waller Park Extension to Groveway Community Park. It is the same park, at the same location, just with a new name.
Our Field Day team is hard at work, getting things ready. We will run 3A again, this year. Stations will include CW, phone, and a swing station. In addition we'll have the traditional Get On The Air (GOTA) station, a 6m/VHF/UHF station, a satellite station, and (hopefully) Sandy Springs PD and Alpharetta PD will allow us the use their mobile command posts for ARES demonstrations/displays again this year. We hope to have a digital operations demo at the swing station for the first few hours of Field Day. We'll be offering a radio merit badge class for Boy Scouts. And, we'll have our fabulous Field Day picnic!
The last two years, we have done exceptionally well running Field Day as a contest. Kudos to John Kludt, K4SQC, and his teams, for netting us top scores in 3A for the last two years! However, this year we are shifting our focus a bit. We still want to put up the best score we can. But, this year our focus is on showing the public what we can do, what we bring to the table, when the chips are down and traditional communications methods are unavailable. To that end, we want to bring as many visitors to our site as possible, so please spread the word to your friends, neighbors, relatives, co-workers, etc.
To achieve our goal, we will be utilizing social media as much as we possibly can. Regular updates will appear on the NFARL Facebook page between now and the end of the event. We are also investigating using Twitter, Instagram, and other social media outlets to promote our activities. We will be encouraging you to Facebook, Tweet, and post photos from our event, as well.
We have a great team working to bring Field Day to you this year. In addition to myself as the chair, the following club members are captaining the various activities:
Phone and swing statons – Nathan Wood, K4NHW
CW – Pavel Anni, AC4PA
GOTA – Mark Schumann, KK4FOF
Satellite – Daryl, K4RGK, and Lori, K4UPI, Young
6m/VHF/UHF – John Kludt, K4SQC
ARES; Media/PR; Elected Officials – Jim Paine, N4SEC
Safety – Tim Romashko, K4RA
Merit Badge – Jon Wittlin, K4WIT
Technology – Joe Camilli, N7QPP
Food – Lynn Kahn, N4MSK
Facebook/Social Media – Jeff Otterson, N1KDO
When any of these people reach out for help, please respond as you are able. As hard as we all work to make Field Day a success, we also rely on assistance from everyone in the club. To that end, I would like to find someone to help make sure we get all the bonus points we can. If you are interested in helping in this capacity, please let me know. If you have any thoughts or ideas on things we can do to make Field Day a success, please get in touch with me.
Thanks and 73,
Ian, KM4IK
2017 Field Day Chair
HF Stations
We will again be running Class 3A (a club station on emergency power with 3 active transmitters). Our three stations will include:
The goal of the Mixed Mode station is to maximize the number of QSOs by using whatever mode or modes the operator is comfortable using.
To sign up to operate at one of the SSB or CW stations during Field Day, email the station captains. They will contact you to discuss the schedule after they hear from you.
Satellite and Six Meter / VHF / UHF Stations
If you are interested in operating at the satellite station, email station captains Daryl K4RGK or Lori K4UPI. They will contact you to discuss schedule opportunities.
Click here to email Captain John Kludt K4SQC to request an operating slot on the 6m/VHF/UHF station.
GOTA Station
GOTA means "Get On The Air" - A Field Day station dedicated to provide an Introduction and Operating Experience for unlicensed individuals interested in Amateur Radio, individuals licensed (any class) since last Field Day or generally in-active licensed individuals (no HF in 3 years).
A Control Operator will be present for the entire 24 hours to ensure everyone has a great time and positive operating experience.
Make 20 contacts and you will be awarded a commemorative pin on the spot!
For additional information, contact Mark Schumann GOTA Captain at kk4fof@nfarl.org
Sign-Up Now at http://www.signupgenius.com/go/30e044baeac2aa20-getonthe
CW Class with Pavel Anni, AC4PA
Interested in CW? Come to Field Day Saturday afternoon for an introductory class to CW taught by Pavel Anni, AC4PA. Pavel is one of our skilled CW instructors and will introduce you to the wonders of ESTONIA. If you are interested, please click here and let Pavel know of your interest so he can better plan this activity.
BSA Merit Badge Workshop
We will again offer the ever popular Scout Merit Badge Workshop. After you complete the workshop, we hope you stay around Field Day Saturday afternoon to see our operators at work. Also, consider signing up for a session at our GOTA station (see above).
For more details about the Merit Badge Workshop, click here.
Registration for the Merit Badge Workshop is open. Click here to go to the registration page in our Mart.
Saturday Night Picnic Dinner
Our traditional picnic dinner will take place Saturday evening starting at around 6:00pm. Dinner is pot luck, so email Lynn N4MSK at fdfood@nfarl.org to RSVP and let her know which of the following you will bring: salad, veggies, or dessert. The club will provide our meat entree and liquid refreshments. Guests are welcome to join us.
CPR Class
In preparation for, and associated with Field Day, our own Tony Fullard, K4AWF is offering a CPR class for interested club members.

The class is June 10th, 8 AM to 2 PM at the Fellowship Bible Church, 480 Crossville Rd, Roswell. The class is in room LL53 and costs $10 (for the card).
If you are interested, please email Tony at tonyfullard@me.com, with copies to Tim Romashko, K4RA (K4RA@arrl.net) and Grant Register, KK4PCR (gregister@bellsouth.net).
Location
NFARL's Field Day activities will take place at Groveway Community Park (previously named Waller Park Extension), 160 Dobbs Drive, Roswell.
Talk-in to the site will be on 145.470(-) PL100.
KM4IK
Last updated June 20, 2017