Repeaters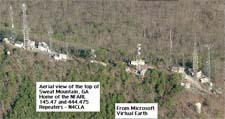 NFARL Repeater Frequencies
NF4GA-R repeater : 145.47 (-) PL 100.0Hz
Location: Sweat Mountain
Marietta Georgia
NF4GA-R repeater : 147.06 (+) PL 100.0Hz
Location: Historic Roswell Georgia
NF4GA-R repeater : 444.475 (+) PL 100.0Hz
Location: Sweat Mountain
Marietta Georgia
NF4GA-R repeater : 927.0125 (-) PL 146.2
Location: Sweat Mountain
Marietta Georgia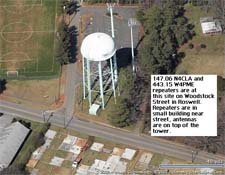 NFARL Affiliate Repeater
W4PME repeater: 443.150 (+) PL 100.0Hz
Location: Historic Roswell, GA
Joint venture with the MATPARC club
W4PME repeater: 224.620 (-) PL 100.0 Hz
Location: Sweat Mountain
Marietta Georgia
Joint venture with the MATPARC club
Atlanta Repeaters
For a list of 2 meter repeaters in the greater Atlanta area click here. Thanks to Daryl K4RGK for updating the list and confirming that the repeaters listed as active are indeed active. If you note any discrepancies, please alert Daryl at k4rgk@nfarl.org or our webmaster at webmaster@nfarl.org.
Most of these repeaters are coordinated by the Southeastern Repeater Association (SERA) which is responsible for the voluntary coordination of repeater frequency allocation. All the NFARL repeaters participate in this voluntary coordination. When a conflict occurs between a coordinated and uncoordinated repeater the FCC will rule in favor of the coordinated repeater.
NFARL Repeater Details
Sweat Mountain Repeater Site
Repeater History
In 1977, Fred Moore, N4CLA, who had just moved to the area, volunteered the use of a repeater as long as the repeater could be installed on a high site in the area. Terry Joyner, W4YBV. then the Police Chief in Roswell, obtained the approval of the city fathers and the Mayor for the repeater to be installed on one of the local water towers, located at the intersection of Woodstock Road and Menhinnet Street with the condition that the repeater on 145.47 MHz would remain in Roswell if and when Fred Moore, N4CLA, were to ever leave the area.
That stimulated the donation of the now current repeater on 147.06 MHz. Prior to the 147.06 MHz assignment, that repeater was on 145.47 MHz and prior to that the repeater was shared by the IBM radio club on 145.29 MHz.
Doug Drye, KD4NC and Fred Moore, N4CLA, then custom-built a computer-controlled repeater controller that was a 4 bit microprocessor controller with an autopatch. This was all built on a 4.5" x 6.5" 44 pin card and was one of the first computer based repeater controllers in the Metro Atlanta area.
The next controller was another hand made controller built by Doug Drye and Fred Moore using an STD bus computer and Z80 CPU along with an SC-01 phoneme based speech chip. The software for this controller was written by Andy Pitts, WA4GIC, in Winston-Salem NC. This controller was installed on a new repeater system that was located on Sweat Mountain in North Cobb County, GA., on 145.47 MHz.
At this time, the Roswell repeater changed frequencies to 147.06 MHz. and the NFARL now had two repeaters with autopatches on each repeater.
A new repeater controller system was later installed on the two repeaters.
A few years later NFARL then acquired another repeater that was installed on 443.200 MHz. It later developed a natural intermod problem with other existing repeaters at the site. That frequency was released to Don, KD4APP, who installed 443.200 on a mountain top in North Georgia.
NFARL then acquired 444.475 MHz which is currently in use on Sweat Mountain.