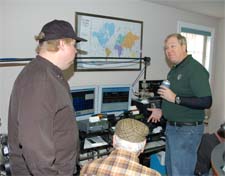 Mid-Month Madness
Click here to see our club activity schedule, and the next Mid-Month Madness activity.
Mid-Month Madness is a great way to increase your learning and technical skills in a hands on fashion.
Some past activities we've held include an antenna building party, kit building, and shack tours. These are well attended events that offer amateur radio operators exciting ways to learn more about ham radio.
At the antenna building party people had the opportunity to build a wire antenna from scratch. Hams built antennas for 80 meters, 40 meters and 40/20 meters. Everyone had a great time, learned to build and tune an antenna, and learned best practice construction techniques.
At a recent kit building session, hams with all experience levels, were able to successfully build a crystal testing RF oscillator. Some people who attended the event had zero experience with kit building and soldering. Our youngest builder was only ten years old.
Our next kit building session offered construction of a sound card interface to enable digital modes like PSK31 or a frequency counter with a digital readout. For some of the advanced builders we offered surface mount (SMT) construction techniques.
We've also held shack tours of the ham radio shacks of various club members. They are an excellent way to get ideas that you can incorporate into your personal shack.
Recently Mack McCormick, W4AX, opened his shack to club members. The morning began with a breakfast and then a tour and demonstration of Mack's shack. Mack operates on all bands 160M to 23cm on all modes including CW, SSB, AM, FM, DStar, and all digital modes. Everything in Mack's shack is computer controlled and automated. Over 50 hams attended the event.
Future Madness
Future Mid-Month Madness suggestions include:
Fox Hunting
Geo Caching
Radio Theory Tutorials for General and Extra class licenses
Field Trip to Radio Stores
J-pole construction
Public service event
Here are some of additional items being discussed for Mid-Month Madness:
Setting up an HF station with simple dipole and making actual voice contacts
Get a group of seasoned hams together for a question/answer session. The visitors bring ANY question(s) they have and get answers at this session. Good for license upgrade questions
Explanations about HF and VHF propagation with real world examples
Kit building sessions (already happening)
ATV repeater building sessions (plural). This could lead into ATV reception sessions to build antennas and/or receivers (can use regular TV for reception if UHF). All to promote the ATV mode
Group purchase of Anderson Powerpole connectors, then group session to help put connectors on all gear brought to the session.
Demonstrations of downloading, installing, configuring and using digital software with actual contacts on the air
Satellite demonstration
Fox hunt antenna building (along with any accessories needed). All to promote future fox hunts
RF jumper building session. Bring your own [good] coax and connectors to learn how to properly terminate coax cable. Leave with at least one (hopefully more) good RF jumper cables
Session to REALLY teach all the functions of a typical VOM
Have a question/answer session about fundamentals of finding and curing RFI problems
Part 97 overview (concentrating on the parts that would apply to most hams - to keep it from being too boring). For example, is digital communication legal in the CW band? SSB band? Both?
Antenna building session (HF, VHF or UHF)
HF amplifier class. Teach the proper way to install, tune and run an HF amplifier
Oscilloscope class. Teach how useful a good O'scope can be. For example, looking at ripple on a DC power supply output.
Spectrum analyzer class. Teach how useful a good spectrum analzyer can be when playing on the bands. (combine with O'scope class)?
Computer software class. demonstrate the latest and most popular software out there for hams including LINUX installation.
Contact Dave AK4CL at ak4cl@nfarl.org with suggestions (and to volunteer your help!)