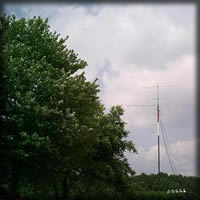 Favorite Web Resources
Here are a few of our favorite resources around the web . . .
AC6V's Web Pages

ARRL http://www.arrl.org
The National Association for Amateur Radio.
ARRL Georgia Section
ARRL Southeastern Division http://www.southeastern.arrl.org
Circuit Simulator (compliments of Hermann AJ4ZS / DL8MCP)
http://www.falstad.com/circuit/
Coax Cable -- Attenuation & Power Handling Calculator
http://www.timesmicrowave.com/cgi-bin/calculate.pl
Coax Cable -- Types of Coax Cable and Line Loss Calculator
http://www.arrg.us/pages/Loss-Calc.htm
CW Ring Tones -- how to put them on a cell phone Click here and follow the steps.
Digital Mode Frequencies Digitial_Mode_Frequencies.pdf
List of digital mode frequencies
DXZone.com http://www.dxzone.com/
Amateur Radio Resource Guide
Electronics + Radio Today http://www.electronics-radio.com/index.php
Covers topics such as basic electronics and radio concepts, basic components, simple electronics circuits, radio, ham radio, construction techniques and much more.
ElectronicsTeacher.com http://www.electronicsteacher.com/
A portal dedicated to Students, Amateur and Professionals in the electronics field. Found by W4QO.
Feed Line Primer http://www.qsl.net/kk6mc/FeedLinePrimer.txt
Includes a history of coax. For other articles by Dr. Megacycle, see http://www.qsl.net/kk6mc/
Google Earth http://earth.google.com
Explore, Search and Discover!
GQRP Club http://www.gqrp.com/
Gwinnett ARES http://www.gwinnettares.org/
The Gwinnett County Amateur Radio Emergency Services web site.
Hams Living in a ZIP Code Hams by Zip
Click on "N4MC's Ham Locator" in the page's left column.
Ham magazines Try these: QST CQ World Radio QRP Quarterly
Ham radio in the 21st century
Ham radio today differs greatly from that of past years, but it still offers a fascinating way to explore electronics. Here's a look at how it has changed and what it has to offer both old hands and newcomers alike. more ...
Ham Radio News
HF Propagation Information http://www.ae4rv.com/tn/propflash.htm
AE4RV provides a flash video that introduces HF propagation and describes the SFI, A, and K indices.
Homebrew Parts A collection by Ted Bruce. Click here to open the pdf file.

HRO http://www.hamradio.com
Ham Radio Outlet!
KC4GZX Amateur Radio Homebrew Projects http://kc4gzx.tripod.com/kc4gzx/index.htm
Long Delayed Echoes, a program for ham radio enthusiasts http://ke9v.net/
An interesting collection of recordings describing events in amateur radio history.
Mapping Tools
Martin County Amateur Radio Association http://www.mcaraweb.com/
Martin F Jue Presentation to ARC at GA Tech 2/25/2010: How to Trim a Dipole ... https://www.youtube.com/watch?v=FtvJttfub9w

Mobile Antennas
My Grid Square http://www.levinecentral.com/ham/grid_square.php
QRZ.com http://qrz.com
The Ham Radio Super Site.
Radio Equipment Ham Radio Outlet (a NFARL supporter) or HamCity.com
Roswell Weather Net http://roswellweather.net/
This is run by ex(past) president of our club Danny WA4BRO.
State of Georgia
Vanity Callsign License Plate

Tonne Software http://www.tonnesoftware.com/index.html
A technically oriented site for engineers and technicians. Recommended by Mack W4AX and Chuck AE4CW.
W1WC Amateur Radio Station www.w1wc.com
W2LJ's Blog - QRP, Morse Code & Amateur Radio http://w2lj.blogspot.com/
Jim's favorite blog.
W4GBU's Atlanta Area Club Sites http://w4gbu.home.mindspring.com/atlclubs.htm
A comprehensive list of local ham clubs.
Wey Walker K8EAB's YouTube Videos
Why 50 Ohms?
http://www.microwaves101.com/encyclopedia/why50ohms.cfm

---
Executive Team
Last updated May 24, 2017