Georgia QSO Party

2016 marks the 55th consecutive (nearly) year that the Georgia QSO Party (GQP) has been challenging amateurs all over the world with the best award/plaque program in the US. In 2015, 323 amateurs submitted logs vying for the thirty-nine award plaques that could be earned.
The GQP is held in a pair of ten-hour sessions on the second full weekend in April; this year that is April 9-10, 2016. All or nearly all 159 Georgia counties should be on the air.
The club's goal this year is to make the contest a success by having a high level of members participate in the contest, as well as representing the hams in the state of Georgia favorably to the amateur radio community throughout the U.S. and the DX world.
The most important goal for the weekend is to have FUN and operate in the contest at your station, or operate with others at a shared station. This is your chance to "be the DX." It is a real opportunity to practice "running," calling CQ and letting them come to you.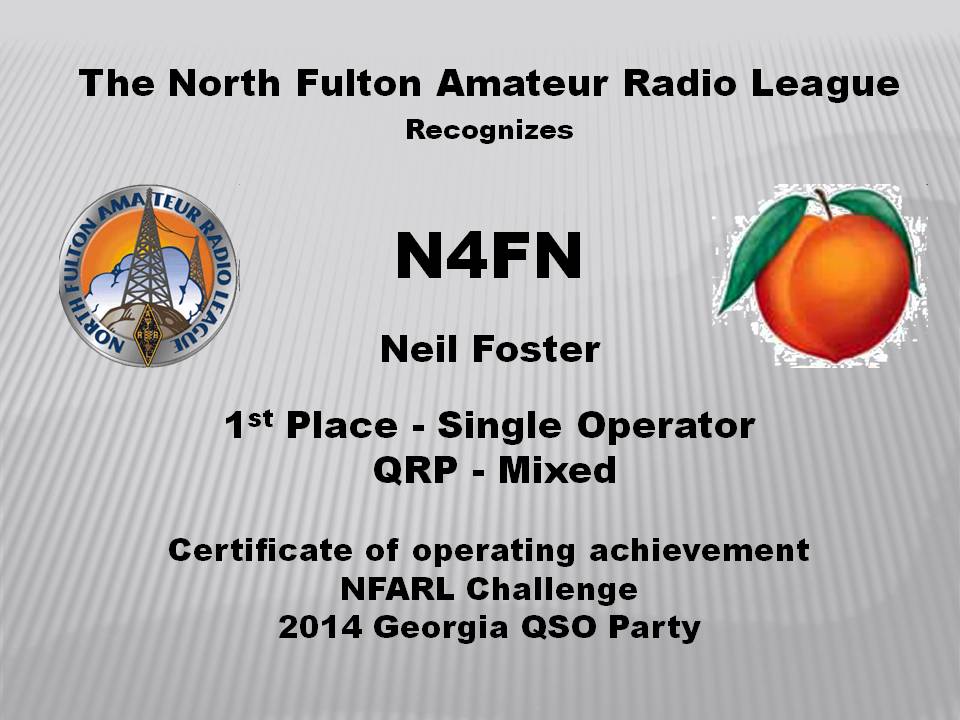 Last year, certificates were awarded to all club members for participation in the contest and special certificates awarded for key accomplishments in select categories. Be sure to play a part in this year's GQP and earn a NFARL award. More information will be posted on the club reflector as the contest approaches.
For contest details, please use the link below.
http://georgiaqsoparty.org/
- John N4TOL
NFARL Internal Results Submission Form
Club members, please submit results to John N4TOL at his club email address -- n4tol@nfarl.org -- on the Excel spreadsheet at the link below:
This summary spreadsheet is for internal club scorekeeping only -- results contained in it will not be sent to the GQP log manager. Submit your entire log in Cabrillo format to the Georgia QSO Party at logs@georgiaqsoparty.org.