HOT TOPICS
Click here to see a consolidated list of club activities
HR 4969
If you support this legislation, deliver your
completed letter to one of our Board Members.
They will deliver your letter to your representative.
Inaugural YL Net
October 2nd 8:30PM
The YL Net meets every Thursday evening on the
145.47 (-) PL 100.0Hz Repeater at 8:30PM.
Click here for details on logging into the net.
NFARES SET
October 4th 9:00AM - 2:00PM
The North Fulton ARES team
has begun planning the 2014 SET
contact NFARES Emergency Coordinator Mike K4LJG
for more Information and to volunteer
Training nets meet Thursdays at 8:00 PM
on the 147.06 (+) PL 100 Hz repeater
Maker Faire® Atlanta
October 4th 10 - 5; October 5th noon - 5
Downtown Decatur, South of Decatur Square
Our team needs volunteers
Contact Jim W4QO at w4qo@nfarl.org
VE Test Session
October 11th 10:00AM
walk-ins accepted until 11:00AM
Alpharetta Adult Activity Center at North Park
Please be prepared to pay the $15 test fee in cash
NFARES Meeting
October 14th 7:00PM
Brandon Hall School
1701 Brandon Hall Drive, Dunwoody
JOTA and Merit Badge Clinic
October 18th 6AM - 12PM & 1PM - 5PM
Johns Creek Presbyterian Church
10950 Bell Road, Johns Creek
click here to register for a class or classes
Advance registration is required
NFARL Club Meeting
October 21st 7:30PM
Alpharetta Adult Activity Center at North Park
topic: Setting Up Your First HF Station
Stone Mountain Hamfest
November 1 (8AM - 4PM) & November 2 (8AM - 2PM)
Gwinnett County Fairgrounds
2405 Sugarloaf Parkway, Lawrenceville
HamJam 2014!
November 8th 8:00AM - 1:00PM
Metropolitan Club, 5895 Windward Pkwy, Alpharetta
click here to purchase Raffle tickets in the Mart
HRO Manufacturer's Day
November 15th Time TBD
HRO, 6071 Buford Highway, Atlanta
Save December 20th for our Holiday Party
December 20th 6:30PM - 9:30PM
Alpharetta Adult Activity Center at North Park
When details are finalized, Dinner tickets
will be on sale in the Mart
---
Join NFARL or Renew your NFARL Membership
---
Welcome!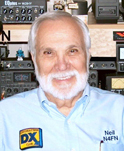 My name is Neil Foster, N4FN, and I would like to welcome you to the North Fulton Amateur Radio League, NFARL, website -- the internet home of the 2010 Hamvention Club of the Year.
NFARL is the premier club in the greater North Fulton County, Georgia area with over 260 active members. The Club features a variety of activities to appeal to the widest range of amateur radio interests from getting started in our hobby to contesting, QRP operating, rag chewing, DXing and project building. We invite every ham and newcomer to the hobby to visit the friendliest club in the area.
Our monthly meetings focus on topics with broad appeal presented by highly rated speakers. Special Interest Groups (SIGs) offer in-depth training and discussion on topics such as antennas, learning CW, contesting, and complex kit building. Mid-Month-Madness events offer opportunities to build antennas and kits, visit members' shacks, explore new operating modes, delve into the boneyards at local hamfests and similar activities.
We seek to help every member grow in their skills and enjoyment of the hobby. HamCrams help new hams earn their first license and quickly upgrade to General followed by Extra class. A mentoring program helps ensure every ham has access to an "Elmer" and VE sessions are conducted monthly. A weekly TechNet encourages discussion of all things technical, and a weekly YouthNet offers an opportunity for our young and older members to interact. We promote Ham radio to schools and Scouting and encourage youth membership and participation in all our events. The Club again co-sponsored (along with the SouthEast DX Club) a "HamJam" in 2013, a program featuring nationally renowned amateur radio speakers, with the proceeds used to provide support to our local amateur radio youth.
The club places a major emphasis on public awareness of Field Day and enjoyed the largest participation in the nation in 2009, 2010, 2011, and 2013 and the second largest in 2012!
Our sister club, the North Fulton ARES, serves the communities of Alpharetta, Roswell, Johns Creek and Sandy Springs.
The club maintains six repeaters including EchoLink access.
Please browse the site and feel free to contact any of our officers or executive team members for more information.
Welcome to the website and NFARL. We look forward to meeting you soon!
---
We meet on the 3rd Tuesday of each month at 7:30 PM at:
Alpharetta Recreation & Parks Department
Alpharetta Adult Activity Center at North Park
13450 Cogburn Road
Alpharetta, GA 30004
map
Join us at our meeting or on one of our repeaters! Contact us for more information.
---
North Fulton Amateur Radio League
Serving
Roswell, Alpharetta, Johns Creek, Sandy Springs,
Milton and all of North Atlanta.
Repeaters:
145.47 (-) PL 100.0Hz 147.06 (+) PL 100.0Hz
224.620 (-) PL 100.0Hz 443.150 (+) No PL 444.475 (+) PL 100.0Hz
927.0125 (-) PL 146.2
---
NFARL is a 501(c)(3) charitable organization